Main content starts here, tab to start navigating
The Best Steaks on Earth™ Right at Home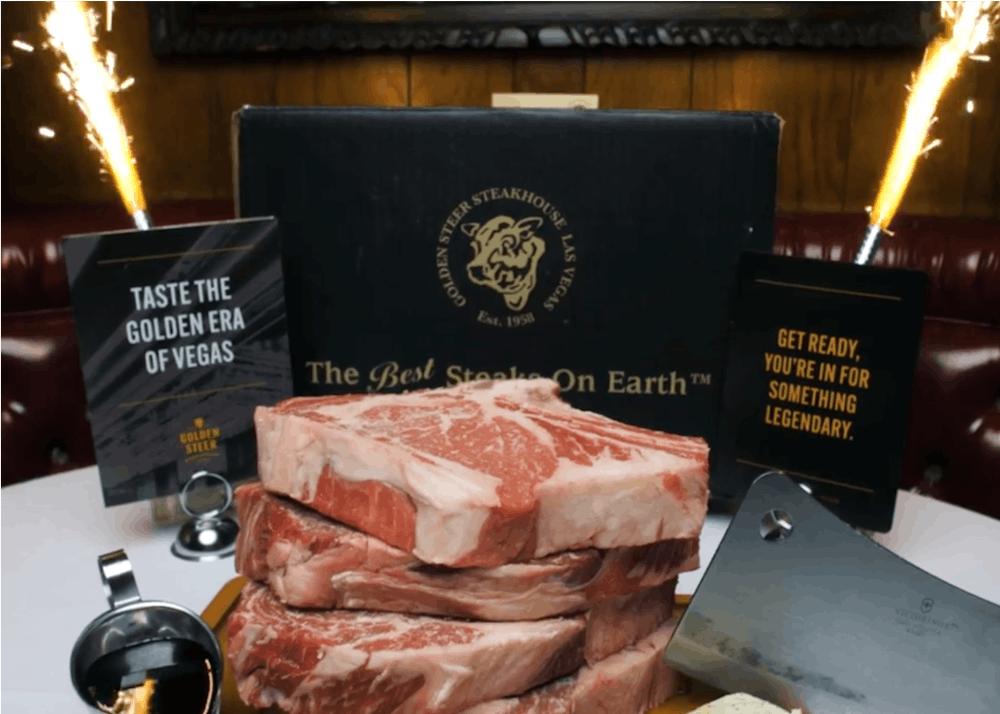 Launched in 2020, Golden Steer Steak Company is our eCommerce platform created to ship our "Best Steaks on Earth™" nationwide. As a family-owned and operated business, we had multiple generations at the table last year debating and pitching Golden Steer Steakhouse's path forward due to COVID-19. We ultimately wanted to share the Vegas experience with those who had dined with us before, and those we hope to see in the future.

The Golden Steer as one customer stated it, is the soul of Las Vegas. It's the old-school ambiance that transports you to the time of the Rat Pack, with the music from the '60s and the red leather booths. It's the service, tuxedo waiters who treat their job like a craft and can always anticipate your needs; they put on a show with tableside dining from Caesars salad to flaming Bananas Foster. It's the hand-carved and butchered "Best Steaks on Earth," the larger than life twice baked potatoes, and classic dishes made from scratch we've been serving for 60 plus years.

We are much more than steaks in a box - we are a memorable meal and an experience you'll never forget. Whether you can visit us at the steakhouse, or order from our new website, we hope to dine with you soon.

Recipes, Tips, and Tricks
Throughout each week, we update our Journal with our favorite recipes, cooking tips, and tricks. We're all about making meals memorable.